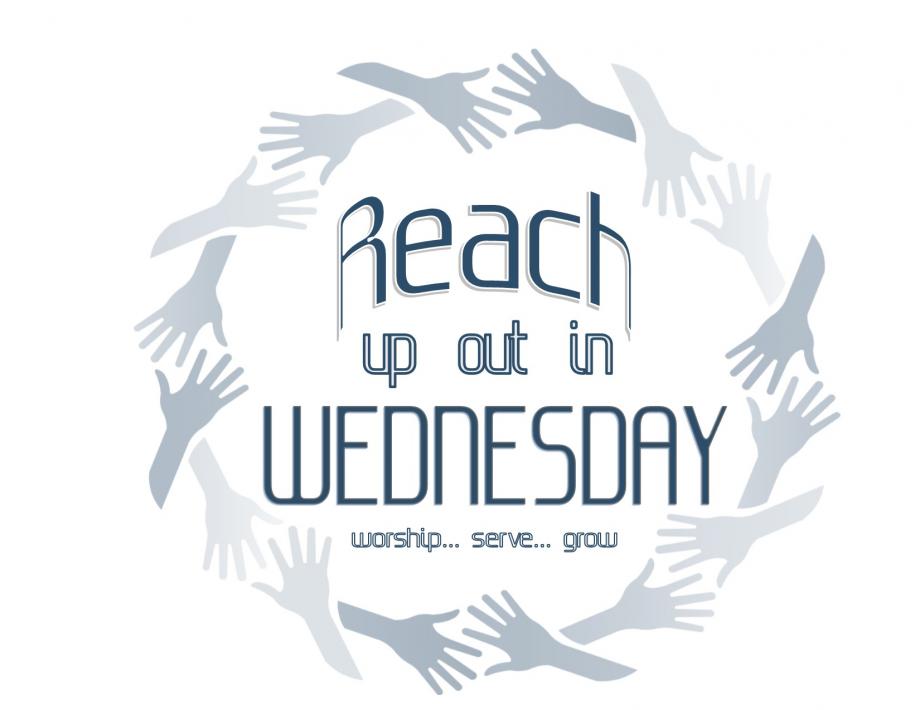 REACH WEDNESDAY
01/24/18 - 03/21/18
Reach Wednesday... Reach Up - Reach Out - Reach In

"Do not conform to the pattern of this world, but be transformed by the renewing of your mind. Then you will be able to test and approve what God's will is— his good, pleasing and perfect will." (Romans 12:2)

Why Reach Wednesday? We are reaching up to enrich and deepen our relationship with God. We are reaching out to serve others in our congregation and our community. We are reaching in to further our own spiritual growth and development.

To REGISTER, click the REGISTRATION button below or
you may register on Sundays.
COLLEGE & ADULT CLASSES
Block 1: January 24, 31, February 7 and 21
PARENTING... led by Jesse Lile
The GOSPEL of LUKE as one of the Synoptic Gospels... led by Herb Hash
KNARTHEX KNITTERS... led by Julia Pedigo
ASH WEDNESDAY; February 14
DINNER and Ash Wednesday Service
Block 2: February 28 - March 21
PARENTING... led by Jesse Lile
ACTS, a history of the early church... led by Herb Hash
KNARTHEX KNITTERS... led by Julia Pedigo

Reach Wednesday dinner will be served from 5:15pm through 6:00pm, followed by classes and children's activities from 6:15pm through 7:30pm.

REACH WEDNESDAY MENUS

January 24 BBQ, baked beans, slaw, rolls, mac & cheese
Meal Team: Mo's BBQ
January 31 Teriyaki Chicken Breast, Mashed potatoes, green beans
Meal Team: BBQ, Burgers, & Brews
February 7 Chili, Mac & Cheese, Vegie tray, corn muffins
Meal Team: John and Sue Newell
February 14 Pancakes, Eggs, Sausage
Meal Team: Men's Class
February 21 Baked Ziti, salad, and bread
Meal Team: BBQ, Burgers and Brews
February 28 BBQ, baked beans, slaw, rolls, mac & cheese
Meal Team: Mo's BBQ
March 7 Teriyaki Chicken Breast, Mashed potatoes, green beans
Meal Team: BBQ, Burgers, & Brews
March 14 Baked Ziti, Salad, Bread
Meal Team: John and Sue Newell
March 21 Pizza, Veggie tray

Kids PB & J available every evening

~ Reach Wednesday Planning Committee