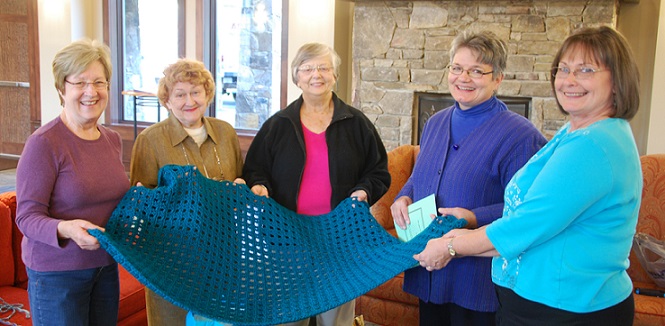 The Knarthex Knitters usually get together during Wednesday Night Live for fellowship in knitting and crocheting, sharing knitting tips, patterns, yarn, and joys and concerns of members of the church family. We have a wonderful, yet relaxing time in the Bride's Room/Social Concerns classroom in the church
Many times it is not convenient for some of our members to meet, and we would encourage you to knit or crochet in your home. A good time to knit at home is in front of the television while watching your favorite programs or sports events.
Patterns for a prayer shawl for our members who need the warmth and comfort of knowing that their brothers and sisters in Christ do care for them, pray for them, and give them a tangible gift of that love in concern for their illness or loss of a loved one, can be found at:.
http://www.shawlministry.com/instructions.html

The following websites can direct you to learn how to knit:
http://www.youtube.com/watch?v=3uw-nUvGrBY
http://knitting.about.com/od/learntoknit/a/begin_knit.htm
http://learntoknit.lionbrand.com/

How to crochet:
http://crochet.about.com/od/crochetstitches/tp/basic-stitches.htm
http://www.youtube.com/watch?v=eqca00LdmAc
Patterns for baby hats for Watauga Medical Center:
http://www.knittingpatterncentral.com/directory/baby_hats.php
http://www.knittingonthenet.com/babyhats.htm
http://www.redheart.com/free-patterns/sweet-baby-hat
http://www.themakeyourownzone.com/2011/03/knitting-newborn-hats-for-hospitals.html

Patterns for chemo caps:
http://www.bevscountrycottage.com/cancercaps.html
http://mathomhouse.typepad.com/photos/chemo_caps/pink_ribbon_bbcdotcodotuk.html#tp
https://www.knotsoflove.org/resources/patterns/

Patterns for blankets for Project Linus:
http://www.projectlinus.org/patterns/
The members of the Knarthex Knitters can distribute any of the above:

contact Julia Pedigo pedigoja@appstate.edu