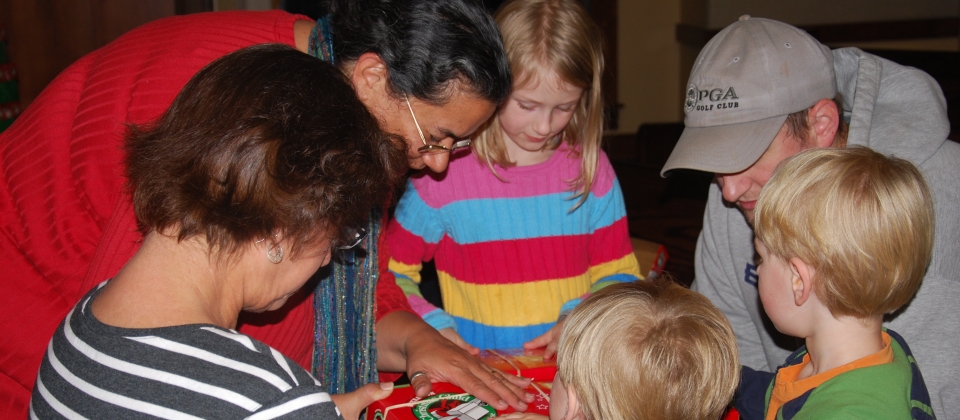 Operation Christmas Child
"Therefore go and make disciples, of all nations…." Matthew 28:19a

Circle 1 invites you to pack Operation Christmas Child Shoeboxes with toys, toiletries, school supplies, books, and small articles of clothing AND to include messages telling children God loves them and you are praying for them.

Along with the OCC Shoeboxes and packing information at the OCC Center in the Gathering Space, you will find a few donated items and some toys made by our FPC kids that you may include in your shoeboxes.

This year we are asked to NOT INCLUDE toothpaste or candy (due to customs regulations), and to please try to include $9.00 to cover shipping for each shoebox.

Return your packed OCC Shoeboxes to the Gathering Space. Our church family will dedicate OCC boxes on Sunday, November 19th.

To volunteer at the OCC warehouse, you may sign up at the OCC display.

What Goes in My Shoebox?
*Start with a quality item like a stuffed animal, soccer ball with pump, or clothing outfit that will capture the child's attention the instant he or she opens the box.
*Pack other fun toys, hygiene items, and school supplies to fill the shoebox.
*Pray for the child who will receive your gift and send a personal note and photo.
*Include a donation of $9.00

Do Not Include:
Candy; toothpaste; used or damaged items; war-related items such as toy guns, knives, or military figures; chocolate or food; seeds; fruit rolls or other fruit snacks; drink mixes (powdered or liquid); liquids or lotions; medications or vitamins; breakable items such as snow globes or glass containers; aerosol cans.

Gift suggestions:
A "Wow" Item: doll, soccer ball (include a manual air pump so that the ball can be inflated.), stuffed animal, outfit of clothing to wear, small musical instrument (such as a harmonica or woodwind recorder).
Personal care items: comb, hairbrush, comb, toothbrush, washcloth, soap, hair accessories, adhesive bandages, reusable plastic containers: cup, water bottle, plate, bowl, blunt-edged utensils, blanket, compact mirror. (Consider filling an empty container with non-liquid items such as hair bows, bracelets, sunglasses, or washcloths to maximize the space.)
School Supplies: pencils, crayons, colored pencils, markers, pencil sharpeners, pencil cases, glue sticks, tape, paper, notebooks, coloring books, blank index cards, solar powered calculator, blunt tip scissors.
Clothing and Accessories: shirts and pants, pillowcase dress, underwear, shoes and socks, flip-flops, hats, scarves, mittens, tote bags, purses, friendship bracelets, sunglasses.
Toys: balls, small cars, stuffed animals, kazoos, harmonicas, yo-yo's, jump ropes, small Etch-a-Sketch, slinky, finger puppets, stickers, Playdough, Lego's, stickers, dinosaurs, picture books, plastic tools.
Other: sewing kits, flashlights with extra batteries, toy jewelry, watches, bandanas.