Christmas Greetings to All!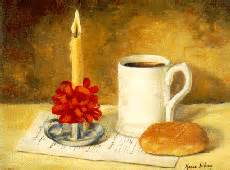 It's that very special time of Advent and the season of expectation. And Sunday, December 4, 2016, we are expecting to welcome a number of community folks as well as our own church family members to our Moravian Lovefeast Service. This beautiful historic service has been our church's gift to the community for over 30 years. Many local families say it is the official start of their holiday season.

The history of the United Brethren, or Moravians as they came to be known, is inspiring and uplifting. As followers of Jan Hus, the rebellious priest who was burned at the stake in 1415, they became the earliest protestant denomination and established themselves as a separate church in 1467. The early Moravians were a gentle people who trusted the defense of their beliefs to their faith rather than to walls or military battles. This steadfast faith proved to be a great lesson in history as the band of believers survived the wrath of a powerful Rome, thus proving the impossibility of destroying God's people by force. Eventually the United Brethren sought religious freedom in America and their influence and customs are reflected in our lives today.

The characteristic of fellowship in Moravian worship is illustrated by the Lovefeast. It is a service of singing, eating spice buns, drinking coffee, and praying. It is not a sacrament, but a service of love and fellowship among sisters and brothers in Christ. Beautiful music is offered in praise and thanksgiving for God's greatest gift of love to us—the birth of our Savior.

The Moravian star may be a familiar sight to you around Advent. It is an important symbol to testify to the greatness of the Creator who made the numberless stars on the fourth day. It is also a reminder of the star that once led the Wise Men to the Christ Child. And finally, it points to the Divine Star foretold by the prophet: "A star shall come out of Jacob and fulfilled in Him who said of Himself: I am the Root and the Offspring of David, and the bright Morning Star." (Rev. 22:16)

The huge Moravian star hanging in our sanctuary is handmade and was donated to First Presbyterian Church by Stu Classon, of Clemmons Moravian Church in honor of Reverend O. E. Stimpson (Cheryl Stanley's father). It is evident that much love goes into the planning and preparation of the Lovefeast by many people…..those who came before us and those serving us today.

We hope you will join us Sunday, December 4, at 6:30pm (music starts at 6:00pm) to celebrate the season of Advent with a traditional Moravian Lovefeast Service handed down to us from our brave faith fathers and mothers.

UPDATE ON THE 2015 LOVEFEAST OFFERING
Through the generosity of the attendees of this year's Lovefeast, a total of $972.71 was collected to provide food to 30 families through the Blowing Rock CARES food pantry. The original goal was to provide either a turkey or ham for each family, but thanks to the generosity of God's people, each family received a turkey, 2 boxes of Stove Top stuffing, a large can of yams, a can of cranberry sauce, 2 cans of gravy, 1 box of cornbread mix, a tin of holiday cookies, a 3-quart apple juice, and their choice of a bag of apples or tangerines! Thank you for feeding and serving God's people!