Sunday School: 9:30 am
(This new time starts 10/23/22)
Bible Discovery – is looking at the different types of literature in the book of Isaiah and trying to understand and interpret the book for its own time and for ours as well.
Leader: Herb Hash Room 110
FOCUS – Focused On Christ United by the Spirit… a multi-generational group, is using the rightnowmedia study "Divided We Stand".
Leader: Sue Newell Room 105
Genesis
–
a traditional Bible study class, is presently studying Genesis using "Genesis, God's Creative Call" by Charlie and Anne Hummel.
Leader: Harris Prevost & Susan Corey Conference Room
Koinonia
– a multi-generational class for women is studying
Ray Vander Laan's "In the Wilderness".
Leader: Kay Stacy Room 111
Man to Man – Is currently doing an inductive study of the book of Romans using "Explore by the Book" by Tim Keller and Sam Allberry.
Leader: John Newell Room 112
NIKE
–
is currently doing topical contemporary Bible studies.
Leader: Greg Langdon Rooms 103-104
Social Concerns –

uses "The Wired Word" for our class discussions. Each week there are two topics from which we choose… each topic is related to current social activities.



Leader: Marc Kadyk Room 206
TNC
–
a group of family minded adults who strive to become spiritually mature, care for one another, and build relationships as we immerse ourselves in God's Word.
Leader: Steve Marks Library

Week of 09/07/22 – 10/26/22
All classes will be held in person this fall starting at 6:15
with family-friendly meals served in the gym starting at 5:15pm.
____CAREGIVING ESSENTIALS: This class is designed for those who are presently caregivers and those who one day will be caregivers… If your season of caregiving is upon you or soon to be, this class is for you. Join us for information and conversation about the essentials of caregiving, with topics to include compassionate care, legal matters, end of life planning, understanding palliative and hospice care, and support for the caregiver.
Leader: Doug Sterrett
____CORNHOLE and COLOSSIANS: EVERYONE, including high school and middle school students, is invited to join us for lively discussion and fellowship as we explore Paul's message to the Colossians and toss beanbags at raised, angled boards across the lawn. We will dig into the Apostle's letter to the church in Colossae as he explains the transformative power of the Gospel. Leader: Steve Marks
____ JONAH: This class will complement the Jonah series that Pastor Jeff will be preaching on by digging deeper into some material he will not have time to cover. We will look at where Jonah fits in the canon, the type of literature it is, to whom it was most likely written and when, and what the Holy Spirit is saying to us today through its message. Leader: Herb Hash
____KNARTHEX KNITTERS: Get together for fellowship in knitting and crocheting, sharing knitting tips, patterns, yarn, joys & concerns of members of the church family. Leader: Knitting Ministry Team
____ OFFICER TRAINING for newly elected Elders & Deacons
Leader: Pastor Jeff Smith
____WOMEN'S STUDY: "Find Your People" by Jennie Allen God created us for deep, safe community connections. Come discover five biblical life patterns that help us engage and explore life together through all the different chapters of life. Join us in person or on Zoom.
Leaders: Krystal Wilson, Shawn Huntley, Kay Stacy & Sharon Carlton
ON-GOING GROUPS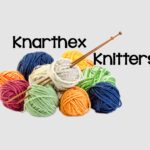 Knarthex Knitters
– Join us on
Wednesdays at 6:30pm
to knit or crochet prayer shawls for our members who need the warmth and comfort of knowing that their brothers and sisters in Christ care for them, pray for them, and give them a tangible gift of that love in concern for their illness or loss of a loved one. Interested in joining this group? Click on "I'm Interested…" below.

Prayer Group
– join the prayer group on zoom on
Thursdays at 10am
for a time to share joys and concerns and to spend some time praying with one another, even if it's just wordless groans! To join the group one time, or every Thursday, click on "I'm interested…" below.
Click HERE for YOUTH opportunities…
Click HERE for opportunities for CHILDREN…
John & Sue Newell
Every other Sunday at 6:30 pm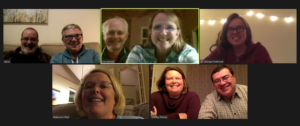 Sharon Carlton
New Chapter Widows Group
2nd Friday 1:00 pm and 4th Saturday of each month.
Women's Circles 1 and 2 meet on the first Tuesday of the month at 10am. All women are invited to join a Circle! in the church downstairs
Circle 1
led by Kay Stacy meets in room 104
Circle 2
led by Susan Corey meets in the conference room
For more information, please click below:
RightNow Media
First Presbyterian is always looking for ways to serve you as you live out your faith throughout the week. We are inviting you to have a free account to an exciting video library called RightNow Media.
It's essentially the "Netflix of Video Bible Studies" because you will have instant access to thousands of great videos for kids, youth, parents, married couples and more. You can view these videos from your phone, tablet or computer. And you can also view them in a group setting through a TV or projector.
Take a look at this video to find out more, then register HERE…