Haitian Luncheon
To kick off the 2019 Lenten season we are going to have a… Haitian Luncheon on Sunday, March 10 at noon!
This is a family event. Our children will be helping serve our congregation! We will be having Haitian style food while learning how we can help our friends in Haiti.
We will also have a silent auction where "Hearts for Haiti" art work will be auctioned along with other silent auction items! All proceeds will benefit Real Love Academy in Minoterie, Haiti.
This is a FREE lunch. Donations for lunch and Real Love Academy will be appreciated !
If you would like to join us for fellowship and Haitian style food, which will include chicken, beans and rice, Pikliz (Haitian cole slaw), and "club PB&J" sandwiches, please sign up on Sunday using the bulletin insert or fill out and submit the form below.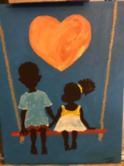 Questions???