Sunday, May 3, 2020
Please click on the link below to join us for worship Sunday morning at
8:45 & 11:00am…
First Presbyterian Church
"Called to Grow, Share, Serve"
Sunday, May 31, 2020
Pentecost Sunday
Welcome & Announcements Rev. Jeff Smith
Responsive Call to Worship Steve Marks
Hymn of Praise Great God of Every Blessing (Lyrics below) #694
Prayer of Confession Rev. Jeff Smith
Declaration of Pardon
Leader: Friends, believe the Good News of the Gospel!
All: In Jesus Christ we are forgiven. Thanks be to God!
Congregational Response Spirit of the Living God #288
Spirit of the living God, Fall afresh on me;
Spirit of the living God, Fall afresh on me.
Melt me, mold me, Fill me, use me.
Spirit of the living God, Fall afresh on me.
Passing The Peace Rev. Jeff Smith
You are encouraged to text one another and pass Christ's peace.
Sharing with our Children Erin Fowler
Choral Anthem Holy Spirit (Lyrics below) First Light Band
Listening to the Word of God
First Reading: Galatians 5:16-17; 22-25 Will Sabillo
Second Reading: Acts 2:1-13 Steve Marks
Leader: The Word of the Lord.
People: Thanks be to God!
Word of God Proclaimed "Pentecostal Presbyterians" Rev. Jeff Smith
Affirmation of Faith Apostles' Creed
Prayers of the People and the Lord's Prayer Will Sabillo
Responding as Faithful Stewards of God's Good Gifts
Our Tithes and Offerings As we give to the Lord, we encourage you to give one of two ways:
You may send a check directly to the church by mail:

(131 Big Valley St. Boone, NC 28607)
You may go to www.firstpresboone.org and click on the "Giving" button, to give online
Offertory Burn Bright arr. Marty Haugen
Doxology Praise God from whom all blessings flow;
Praise God, all creatures here below: Alleluia! Alleluia!
Praise God, the source of all our gifts! Praise Jesus Christ whose power uplifts!
Praise the Spirit, Holy Spirit! Alleluia! Alleluia! Alleluia!
Prayer of Dedication Rev. Jeff Smith
Going to Serve Light the Fire (Lyrics below) First Light Band
Being Blessed to Be a Blessing
Being Sent Into The World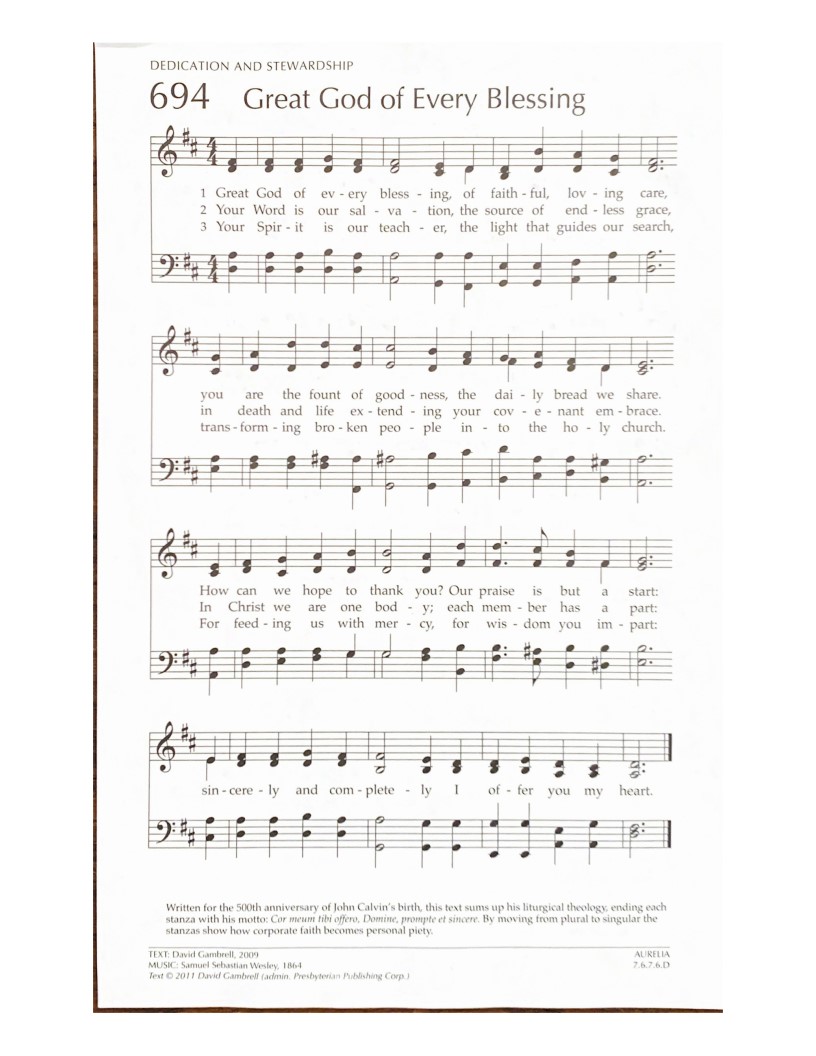 Holy Spirit
Verse 1
There's nothing worth more that will ever come close
No thing can compare You're our living hope
Your Presence Lord
Verse 2
I've tasted and seen of the sweetest of loves
Where my heart becomes free and my shame is undone
Your Presence Lord
Chorus
Holy Spirit You are welcome here
Come flood this place and fill the atmosphere
Your glory God is what our hearts long for
To be overcome by Your Presence Lord
Your Presence Lord
Bridge
Let us become more aware of Your Presence
Let us experience the glory of Your goodness
(3 X)
Chorus 2
Holy Spirit You are welcome here
Come flood this place and fill the atmosphere
Your glory God is what our hearts long for
To be overwhelmed by Your Presence Lord
Light the Fire
Verse 1
I stand to praise You
But I fall on my knees
My spirit is willing
But my flesh is so weak
Chorus
(men) (women)
So light the fire Light the fire
in my soul in my weary soul
Fan the flame Fan the flame
Make me whole Make my spirit whole Lord You know Lord You know
where I've been where I've been
So light the fire
in my heart again
Verse 2
I feel Your arms around me
As the power of Your healing begins
Your Spirit moves through me
Like a mighty rushing wind
(Chorus)