HELP US FEED OUR NEIGHBORS AND THEIR CHILDREN THIS SUMMER!
More than 50% of the children at Bethel, Cove Creek, and Mabel Schools receive Free or Reduced lunch during the school year. In the summer the free and reduced lunches are not available…that's where the Food 4 Families mission project comes in and we would love for you to join us!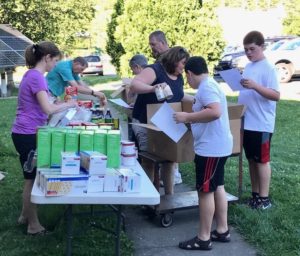 This summer the sign up will be altered to comply with safety for all involved in the packing and delivery process.
We are following the recommended safety guidelines which include:
1. Everyone will be required to wear a mask and use hand sanitizer
2. Limited numbers of people will be allowed to pack
3. Social distancing will be required for non-family members
For this reason, we will be packing on several consecutive days instead of doing all of the work on one day. This is what the first packing / delivery will look like:
Sunday June 21 – 4-5:30pm Make/Label Boxes and Food Table Set up
Monday June 22 – 6-7:30pm Food Packing
Tuesday June 23 – 9:30-12pm Food Delivery
This year we are going to only have sign-ups for the first packing date to see how our plans go for coordination etc., and will make changes if necessary. The next packing / delivery will be on July 5-7, July 19-21 and August 2-4.
To sign up for Food for Families please contact Anna Lehman, Food 4 Families volunteer coordinator at Littlebird1522@yahoo.com or 828-964-9055 by June 10th to volunteer.
QUESTIONS??? contact Sue Newell at alltogether@bellsouth.net or a member of the F4F Team: Margaret Gregor, Margaret and Russell Headrick, Anna Lehman, Dianne Huffman
2020 Food 4 Families Packing / Delivery Guidelines for Volunteers at FPC
All volunteers must be COVID 19 symptom free and have no family member with COVID like symptoms. While volunteering, they will be required to:
• wear a mask
• wear gloves, or wash / sanitize hands frequently
• maintain distance of at least 6 feet from non-family members
Sunday afternoon:
• Set up food on tables spaced at least 6 ft apart using the downstairs hallway and preschool hallway.
• Make boxes and set up in delivery order in the double children's classroom.
• Set up tables to pack produce in the Youth Hall
• Make sure all doors to bathrooms are propped open and tape off every other sink
Monday afternoon:
• Outside doors will be open to allow for air movement and influx of fresh air
• Set up produce on tables in the youth hall
• Hand sanitizer will be available on each table
• 3 teams consisting of either 2 people from the same family, or 1 individual, will pack boxes going down the "assembly line" and set packed boxes at the end of the preschool hall to be loaded on the bus.
• 2 volunteers will pack produce at separate tables
• Separate team (2 volunteers) will be responsible for loading / packing the bus parked outside Preschool hall
• Clean tables, recycle plastic and cardboard
Tuesday morning:
• Load produce onto bus
Deliver food boxes to:
• High Country United Church of Christ
• Bethel School / Bethel Baptist
• Henson's Chapel
• Mabel Methodist