New Here?
Get to know First Presbyterian Church Boone here…
At First Presbyterian Church, we believe God has called us to be active in Christ-centered discipleship, service and evangelism. We offer ongoing, as well as seasonal, programs for all ages—each designed with this call in mind. Want to know more about our ministries/programs?
SERVE
We exist to make Jesus known.
In Matthew 20: 26-28, Jesus called the disciples together and said, "…whoever wants to become great among you must be your servant, and whoever wants to be first must be your slave— just as the Son of Man did not come to be served, but to serve, and to give his life as a ransom for many."
Website: firstpresboone.org
Address: 131 Big Valley Street Boone, NC 28607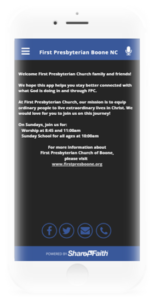 Download FPC's mobile App to…
find out what's happening at FPC
To download FPC's App, first download the Sharefaith App. Then search for First Presbyterian Boone.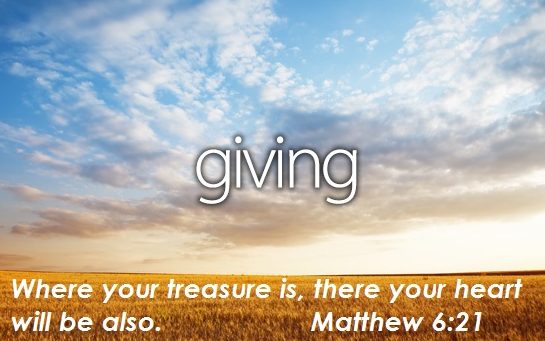 Giving at First Presbyterian is an opportunity to express our gratitude for God's extraordinary gifts to us…..
A Giver At FPC understands that…
Giving is a year-round commitment
Giving is about actively caring for God's creation
Giving is a lifestyle modeled by Christ
Giving is more than making a financial pledge to the annual budget
Giving is a joy not a burden
Giving is a disciple's opportunity to share time, talents, and resources
Giving is a response to God's incredible gift to the world-Jesus Christ
FPC offers convenient ways to make contributions to the church…
OPTION 1
If you give the same amount each week or month, and you would like to use the electronic funds transfer method, fill out a form with your banking information and indicate the amount and timing of the contribution. To receive a form and start the process, please send an email to
treasurer@firstpresboone.net
.
OPTION 2
Use your bank's bill pay feature making the check out to First Presbyterian Church – Receiving Treasurer. In the event that you need to distribute the amount to a designated fund other than your normal pledge, send an email to
treasurer@firstpresboone.net
with the specifics.
OPTION 3
Give via the weekly offering or by mailing your offering to the church office at:
131 Big Valley Street
Boone, NC 28607