OTHER RESOURCES…
COMMUNITY FOOD RESOURCES
Food can be picked up from the following local churches and organizations (updated 6-23-22):
Alliance Bible Fellowship, 1035 NC Hwy. 105 Bypass Boone. 828-264-8312
Food pantry weekdays 8:00am – 4:00pm. One box per month per family/household.
Blowing Rock C.A.R.E.S., Rumple Memorial, 1218 Main St., Blowing Rock 828-295-7675
Food Pantry. Wednesdays, 9 am – 12 noon.
Casting Bread @ Faithbridge, 194 Aho Rd., Blowing Rock, NC 28605 828-295-8333
Food Pantry. Wednesday & Thursdays, 10:30 am – 3 pm. Families can get food boxes every 2 weeks. Casting Bread Café serves meals 11:00 – 1:00pm Wednesday & Thursday.
First Baptist Church, 375 W. King Street, Boone 828-264-2441
Food pantry is open for all who are in need, every Monday from 3:00 pm until 6:00 pm, regardless of weather or holidays. They have teamed up with the Hunger and Health Coalition and are now known as HHC@FBC.
Greenway Baptist Church, 880 Greenway Rd., Boone. 828-264-7750
Food boxes. Open Thursday 10 am – 2:30 pm.
Health and Hunger Coalition, 141 Health Center Drive, Boone. 828-262-1628
Monday thru Friday 9:00 am – 4:00 pm. Fresh produce and other perishables and to go meals once a week. Families can get food boxes twice a month.
Hospitality House, 338 Brook Hollow Road, Boone 828-264-1237
Meals served three times a day (6:30-8:30 am, 11:30 am – 1:00 pm, 5:30-6:30 pm). Food pantry is open 7 days a week (***New hours noon – 4 pm). May pick up twice a month.
Western Watauga Food Outreach, Western Watauga Community Center 1081 Old US Hwy. 421, Sugar Grove. 828-297-5195
Thursdays 4:00 – 6:00 pm food bag distribution. A community meal will be served the first and third Thursday of each month.
OTHER NEEDS:
For Students with Substance Abuse Issues: Substance Abuse Recovery Support Guide – https://www.intelligent.com/substance-abuse-recovery-support-guide-for-college-students/
Community Care Clinic – Free clinic for low income and uninsured:
Blue Ridge Energy — Assistance Funding Info:
NCCARE360:

NCCARE360 is a statewide network that unites health care and human services organizations with a shared technology that enables a coordinated, community-oriented, person-centered approach for delivering care in North Carolina. NCCARE360 helps providers electronically connect those with identified needs to community resources and allow for feedback and follow up. This solution ensures accountability for services delivered, provides a "no wrong door" approach, closes the loop on every referral made, and reports outcomes of that connection. NCCARE360 is available in all 100 counties across North Carolina.
JenniferJones
Office Administrator
Phone: 828-264-3906
Fax: 828-264-9466
Website: firstpresboone.org
Address: 131 Big Valley Street Boone, NC 28607
In need of prayer? Share your confidential request with our prayer group…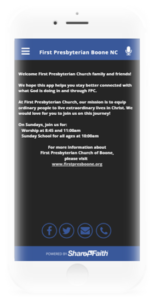 Download FPC's mobile App to…
find out what's happening at FPC
To download FPC's App, first download the Sharefaith App. Then search for First Presbyterian Boone.

First Presbyterian Boone offers convenient ways to make contributions to the church…
To respond to God's grace by participating in God's work through FPC Boone,
choose from the following options:

Please click on "Give Now" to make a contribution by debit or credit card which will include a 2% fee that you may include in your gift.
In addition to one time gifts, you can set up recurring gifts using bank account, credit or debit cards.
GIVE
via BILL PAY
Use your bank's bill pay feature making the check out to First Presbyterian Church – Receiving Treasurer.
GIVE
via CHECK
Give via the weekly offering or by mailing your check to:
First Presbyterian
131 Big Valley Street
Boone, NC 28607
If you wish to distribute to a designated fund other than your normal pledge, write the fund on the memo line.
Thank you for your generosity to support the work of God!
Giving at First Presbyterian is an opportunity to express our gratitude for God's extraordinary gifts to us…
A Giver At FPC understands that…
Giving is a year-round commitment
Giving is about actively caring for God's creation
Giving is a lifestyle modeled by Christ
Giving is more than making a financial pledge to the annual budget
Giving is a joy not a burden
Giving is a disciple's opportunity to share time, talents, and resources
Giving is a response to God's incredible gift to the world-Jesus Christ
Join us on SUNDAY MORNINGS for…
Worship in the Sanctuary and Online • 8:45 and
11:00 am
Sunday School on ZOOM and in person • 10:00 am
First Presbyterian Church