Message from Pastor Jeff… October 28, 2020
Session Update:
Last Sunday the session met and continued our ongoing conversation regarding safe gatherings at our church. As you know, we adopted a set of guidelines several months ago that provide a phased approach of gatherings that the session could move towards as they continue to discern the safe and proper time to do so. At our last meeting we approved an addendum that was brought forward from our Safe Gathering sub-committee that would apply a science based local metric to work in tandem with our guidelines. Essentially this metric gives a color-coded system (green, yellow, orange, red) of where our county and our surrounding counties stand on daily active cases per 100,000 people. This dashboard can be found on the Watauga Democrat site: https://www.wataugademocrat.com/covid19/high-country-covid-19-dashboard/article_81e8111c-e307-11ea-95cb-e3234d8e792e.html
In brief, the metric would follow our phased approaches that would allow us to know if it's safe to have any gatherings indoors; particularly plans C & D (C is no more than 10 people and D is no more than 20 people – masked, social distancing, and clean hands). We approved the following in conjunction with our guidelines which can be found HERE.
Risk levels will determine what gathering types are allowed as follows:
Green A,B,C,D
Yellow A,B,C,D
Orange A,B,C
Red A,B
While our elders remain very divided on these matters (our vote was 6-5-1 abstention), they remain united in their care and concern for everyone. These are tough issues to tackle, but we trust that God is continuing to guide and lead us as we seek to do the best we can to meet in the safest ways possible. In the next week, we will include the addendum on our website, as well as the dashboard so that everyone can easily see the color-coded standing for our county. If we remain in an "orange" code, there is leniency for groups of 10 to gather for no more than an hour in the gathering space or in the multi-purpose room. If we move to a "yellow" code, groups of no more than 20 can gather for no more than an hour and a half in the multi-purpose room.
Other logistical measures include:
Only one group present at a time and we must allow at least a 30-minute transition between groups.
The leader of the gathering will need to contact Jennifer Jones to schedule a meeting on the church calendar to ensure there's not a conflict, and will need to check the dashboard the morning of the meeting to make sure that we are compliant with the guidelines approved.
If there is a change in color; (i.e. orange to red,) the leader of the group will notify the group of the need to reschedule the meeting for another date.
Attendance will need to be kept, and cleaning will need to take place at the end of the gathering.
As you can see, this metric provides more clarity that can be used by everyone and helps the session to have something to work with that is based more on the most current data we have at any specific time. This is just a brief summary of a very long conversation and you will be able to find all the specifics once we upload everything online. Be sure to check the Covid-19 link where it will be listed. Also, I encourage you to continue to pray for our elders as they continue to work through the difficulties of this challenging time. None of these decisions are easy, but we are doing the best we can to do what's right given what we know to ensure the safety of everyone. God's blessings be upon you all!
Grace and Peace,
Pastor Jeff
Response…
"Lean Into Love"
Many things changed this year as the result of Covid-19. Reflect not only on all that is changing, but on your enduring blessings and the call on your life by Jesus who gave his very life for you. During this or any stressful time we have a choice – We can retreat into fear or "Lean into Love."
FIRST PRESBYTERIAN CHURCH OF BOONE IS:
A FAMILY OF FAITH – that cares for one another, and through the Deacon's fund, we respond to needs within the congregation.
CALLED TO GROW IN THE LOVE OF CHRIST –
With courage and strength to face each and every challenge…
For Jesus said (Matthew 22:37-39) "Love the Lord your God with all your heart and with all your soul and with all your mind.' This is the first and greatest commandment. And the second is like it: 'Love your neighbor as yourself.'
TO SHARE THAT GOOD NEWS –
And our lives as well , not retreating into fear or wishing it away. We drive out fear by acting in love (1 John 4:18)
AND SERVE THE WORLD –
"Leaning into love" and learning what it really means to love our neighbors in this crisis will be crucial to our collective health and survival. Matthew 25:40 says "The King will reply 'Truly I tell you, whatever you did for one of the least of these brothers and sisters of mine, you did for me.'
NOW is the TIME – to serve our neighbors in a powerful and tangible way. The Disaster Relief Fund of First Pres Boone needs the support of the whole church. Contributions to this, big and small will go directly to serve the growing needs of our community.
The Mission Committee is responding as we partner with the following local organizations. Please click on the following links to learn more.
Rumple Memorial Church/Blowing Rock CARES
Please give as you feel called by sending a check to FPC designated for the Disaster Relief Fund.
Resources…

Click
HERE
for a list of Churches, Organizations, and Schools that are addressing the food needs of our community.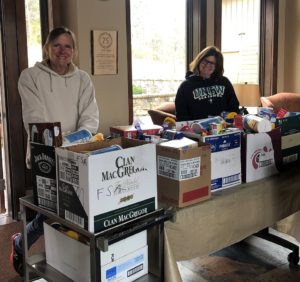 Community Care Clinic – Free clinic for low income and uninsured
Hospitality House – Hunger Relief & Housing WeCan – Western Crisis Assistance Network
Hunger and Health Coalition – Hunger Relief & Prescriptions
Blue Ridge Energy — Assistance Funding Info