FPC's Coronavirus Response
"Lean into Love"

Lent is a time of reflection and renewal. Reflect not only on all that is changing, but on your enduring blessings and the call on your life by Jesus who gave his very life for you. During this or any stressful time we have a choice – We can retreat into fear or "Lean into Love."
FIRST PRESBYTERIAN CHURCH OF BOONE IS:
A FAMILY OF FAITH – that cares for one another, and through the Deacon's fund, we respond to needs within the congregation.
CALLED TO GROW IN THE LOVE OF CHRIST-
With courage and strength to face each and every challenge…
For Jesus said (Matthew 22:37-39) "Love the Lord your God with all your heart and with all your soul and with all your mind.' This is the first and greatest commandment. And the second is like it: 'Love your neighbor as yourself.'
TO SHARE THAT GOOD NEWS –
And our lives as well , not retreating into fear or wishing it away. We drive out fear by acting in love (1 John 4:18)
AND SERVE THE WORLD –
"Leaning into love" and learning what it really means to love our neighbors in this crisis will be crucial to our collective health and survival. Matthew 25:40 says "The King will reply 'Truly I tell you, whatever you did for one of the least of these brothers and sisters of mine, you did for me.'
Now is the time to serve our neighbors in a powerful and tangible way. The Disaster Relief Fund of First Pres Boone needs the support of the whole church. Contributions to this, big and small will go directly to serve the growing needs of our community.
The Mission Committee has made additional contributions of almost $10,000 to the following local organizations but the needs are growing: Rumple Memorial Church/Blowing Rock CARES, Casting Bread/Travis' lunch box, Hospitality House, WeCan, Hunger and Health Coalition.
Please give as you feel called by sending a check to FPC designated for the Disaster Relief Fund.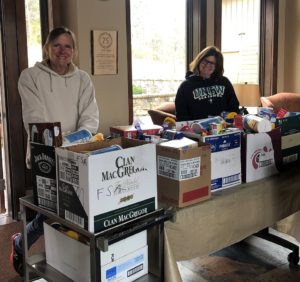 Click
HERE
for a list of Churches, Organizations, and Schools that are addressing the food needs of our community.
Community Care Clinic
Hospitality House – WeCan
Hunger and Health Coalition
Blue Ridge Energy
A Message from Pastor Jeff
03/20/20
Dear FPC Family,
We will begin sending out our In Contact newsletter to you on Fridays while everything is suspended. The session is now meeting every Thursday to check in with one another and assess where things stand in regard to all that is happening around us. Last night the session decided to cancel all activities and in person gatherings indefinitely, until we resume for worship on Sundays. This means that our Seder Meal and Service will not happen as planned, nor our Reach Wednesday gatherings. It's possible that we can provide a Maundy Thursday and Good Friday message/service online. The session will continue to monitor the COVID-19 situation on a week to week basis and when it is safe to do so, will reschedule our in person worship gatherings.
In this time of transition, we hope to provide community through zoom meetings online. We have purchased two host licenses that will allow us to setup our standardized committee meetings through this platform. Don't fret, zoom is fairly simple; you can download the zoom app on your phone, or simply click on the email link that is emailed to you from your computer or tablet (no downloading needed) to connect to a meeting. Looking forward, we hope to provide youth, college, and children's activities through zoom and to provide regular gatherings of Sunday school classes too. Even though we are apart, we still want to be together. So I encourage you to jump in and try it out in the weeks ahead.
In regards to worship, equipment has been ordered to provide a live stream of the sermon from the sanctuary soon. However, this Sunday we will use Facebook Live as a means of sharing the message at 11:00am since our shipping orders have not all arrived. If you don't have Facebook, you will still be able to view the message. We will upload it afterwards onto YouTube and provide a link from our homepage www.firstpresboone.org for you to click on and view it. Once our live stream platform is up and running, you will be able to click on a link from our webpage which will direct you directly to the feed.
In addition, the session approved our Finance and Stewardship committee to choose an online giving platform that will be made available on our webpage. We will let you know when this is up and running, but for now you can mail your gifts to the church address: 131 Big Valley Street.
Speaking of giving, the session voted to allow our church to be a distribution center for boxed meals to local residents who are in need during this time. We are teaming up with Blowing Rock Cares from Rumple Memorial to provide food once a week. Folks will drive through the portico to receive pre-boxed food by our volunteers one day a week. The mission committee will be donating funds to Blowing Rock Cares to support their ability to purchase food, as it will be in greater need than before. If you would like to contribute to this cause, and other needs that may arise in the community you may send a check to the church and earmark it "Disaster Relief Fund".
Friends, this is a new normal for now. Please know that we are doing the best we can to stay connected. Let us continue to pray for one another, for the COVID-19 virus to slow down and go away, and for all who are affected by it – those who are infected and those who are working in the healthcare field to care for them. I'm comforted by Jesus' words, "I have told you these things, so that in me you may have peace. In this world you will have trouble. But take heart! I have overcome the world." (John 16:33) God is still with us, and God has overcome every trouble; let us keep the faith and be intentional to check on one another.
Grace and Peace,
Pastor Jeff