Message from Pastor Jeff… August 26, 2020
Although we've not had worship in our sanctuary since March we have been doing the very best we can to provide worship online so that everyone can stay connected during this pandemic. We moved from Facebook Live sermons, to pre-recorded services that are now available on YouTube starting at 8:45am on Sunday mornings. In addition, we have provided Sunday school, youth group, small groups, and educational opportunities through our zoom platform to stay in touch, all the while using this technology to continue the work of the church with our committees, diaconate, and session.
The session has had to make hard decisions about "in person" gatherings this year for the safety and protection of every church member; not just for the most vulnerable. These decisions have affected our gathering together as well as the operations of our First Morning Out ministry. And even though we've been living through COVID-19 for six months, there's still so much we do not know. Despite the uncertainties, the session has not been idle in trying to establish safe guidelines that would allow for gatherings to take place when appropriate. We long to be together, but we must do so in a safe manner. Numerous versions of guidelines have been drafted and reviewed by the session over the last few months. At our last meeting we reviewed and approved a briefer and clearer set of guidelines that allows for gatherings to slowly take place while still keeping safety at the forefront. This document is a "living document," in that it can be revised as necessary, since we live in such a fluid time.
We are certainly not at the place of having worship in the sanctuary yet, but the session voted to allow small gatherings to take place on and off the church property. Below you will find the guidelines that have been approved as a way to move forward. Within these guidelines, the session voted to approve Gathering A, which allows for small outdoor gatherings of no more than 10 people to take place on and off the church property for up to 1.5 hours. This means all ages; children, youth, and adults can gather following these guidelines, which requires a specific leader ensuring that they are being followed. The maximum number allowed is 10, which includes the leadership. Our staff will be relaying this information to their respective ministries in the event that some of our ministries decide to have in person gatherings. Should you gather on the church property, whether on the lawn or under the portico, we will need to properly schedule these gatherings on the church calendar to prevent having groups arriving at the same time.
As you can see, we are taking "baby steps" to see how well things go to allow us to be with one another. The session will monitor our gatherings, as well as the updated COVID-19 reports in our county, on a monthly basis and will make decisions to either continue to stay where we are, move to a new plan, or to stop gathering if necessary. Continue to pray for our elders as they do their very best to provide good leadership during this strange and difficult time!
Grace and Peace,
Pastor Jeff
Response…
"Lean Into Love"
Many things changed this year as the result of Covid-19. Reflect not only on all that is changing, but on your enduring blessings and the call on your life by Jesus who gave his very life for you. During this or any stressful time we have a choice – We can retreat into fear or "Lean into Love."
FIRST PRESBYTERIAN CHURCH OF BOONE IS:
A FAMILY OF FAITH – that cares for one another, and through the Deacon's fund, we respond to needs within the congregation.
CALLED TO GROW IN THE LOVE OF CHRIST –
With courage and strength to face each and every challenge…
For Jesus said (Matthew 22:37-39) "Love the Lord your God with all your heart and with all your soul and with all your mind.' This is the first and greatest commandment. And the second is like it: 'Love your neighbor as yourself.'
TO SHARE THAT GOOD NEWS –
And our lives as well , not retreating into fear or wishing it away. We drive out fear by acting in love (1 John 4:18)
AND SERVE THE WORLD –
"Leaning into love" and learning what it really means to love our neighbors in this crisis will be crucial to our collective health and survival. Matthew 25:40 says "The King will reply 'Truly I tell you, whatever you did for one of the least of these brothers and sisters of mine, you did for me.'
NOW is the TIME – to serve our neighbors in a powerful and tangible way. The Disaster Relief Fund of First Pres Boone needs the support of the whole church. Contributions to this, big and small will go directly to serve the growing needs of our community.
The Mission Committee is responding as we partner with the following local organizations. Please click on the following links to learn more.
Rumple Memorial Church/Blowing Rock CARES
Please give as you feel called by sending a check to FPC designated for the Disaster Relief Fund.
Resources…

Click
HERE
for a list of Churches, Organizations, and Schools that are addressing the food needs of our community.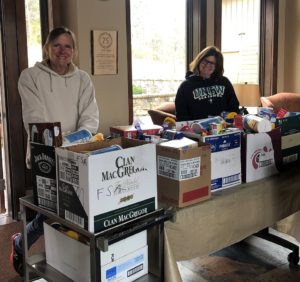 Community Care Clinic – Free clinic for low income and uninsured
Hospitality House – Hunger Relief & Housing WeCan – Western Crisis Assistance Network
Hunger and Health Coalition – Hunger Relief & Prescriptions
Blue Ridge Energy — Assistance Funding Info