Response…
"Lean Into Love"
Many things changed this year as the result of Covid-19. Reflect not only on all that is changing, but on your enduring blessings and the call on your life by Jesus who gave his very life for you. During this or any stressful time we have a choice – We can retreat into fear or "Lean into Love."
FIRST PRESBYTERIAN CHURCH OF BOONE IS:
A FAMILY OF FAITH – that cares for one another, and through the Deacon's fund, we respond to needs within the congregation.
CALLED TO GROW IN THE LOVE OF CHRIST –
With courage and strength to face each and every challenge…
For Jesus said (Matthew 22:37-39) "Love the Lord your God with all your heart and with all your soul and with all your mind.' This is the first and greatest commandment. And the second is like it: 'Love your neighbor as yourself.'
TO SHARE THAT GOOD NEWS –
And our lives as well , not retreating into fear or wishing it away. We drive out fear by acting in love (1 John 4:18)
AND SERVE THE WORLD –
"Leaning into love" and learning what it really means to love our neighbors in this crisis will be crucial to our collective health and survival. Matthew 25:40 says "The King will reply 'Truly I tell you, whatever you did for one of the least of these brothers and sisters of mine, you did for me.'
NOW is the TIME – to serve our neighbors in a powerful and tangible way. The Disaster Relief Fund of First Pres Boone needs the support of the whole church. Contributions to this, big and small will go directly to serve the growing needs of our community.
The Mission Committee is responding as we partner with the following local organizations. Please click on the following links to learn more.
Rumple Memorial Church/Blowing Rock CARES
Please give as you feel called by sending a check to FPC designated for the Disaster Relief Fund.
Resources…

Click
HERE
for a list of Churches, Organizations, and Schools that are addressing the food needs of our community.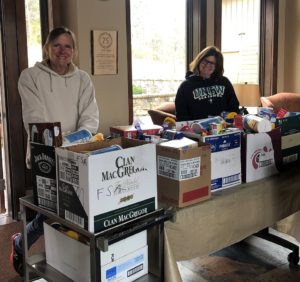 Community Care Clinic – Free clinic for low income and uninsured
Hospitality House – Hunger Relief & Housing WeCan – Western Crisis Assistance Network
Hunger and Health Coalition – Hunger Relief & Prescriptions
Blue Ridge Energy — Assistance Funding Info
Message from Pastor Jeff… May 29, 2020
"I will say of the LORD, "He is my refuge and my fortress, my God, in whom I trust." Surely he will save you from the fowler's snare and from the deadly pestilence. He will cover you with his feathers, and under his wings you will find refuge; his faithfulness will be your shield and rampart." Psalm 91:2-4
Dear Church Family,
We have been physically apart for over two months, which breaks my heart but not my spirit. While I miss each and every one of you, I'm also grateful that we have been able to faithfully navigate these uncharted waters together. We've never done online worship before, but we found a way to make it happen in a relatively short amount of time. I personally want to thank our worship committee, and particularly elder, Rob Robertson, for his efforts to edit and produce our YouTube services each week. I'm also grateful to all our staff members for their continued efforts to provide for worship and for their areas of ministry. During this time we have learned how to "zoom" together so that we can have our Sunday school classes, our committee meetings, small group gatherings, youth group, knitting ministry, and even our diaconate and session meetings. The church continues to be the church; although we're not in our building.
In response to the ever changing landscape of restrictions in our state and the most recent ruling allowing for churches to reconvene, the session of our church met last Sunday and had a long conversation regarding where we go from here. I assure you that each elder has prayerfully thought through what's best for the church given what we know thus far. Given the contagious nature of COVID-19, especially in confined spaces – like our sanctuary, and the many theological, pastoral, and logistical concerns of trying to reopen, the session has decided to continue our online worship for the foreseeable future. Jesus calls us to "love our neighbors as ourselves," and our collective concern is for the safety of everyone. We recognize that other churches and communities of faith have already reopened their doors, while others, like us, remain cautious. Our decision mimics Salem Presbytery's special task force's recommendation on this issue. Click here to see the statement in its entirety: https://myemail.constantcontact.com/Task-Force-Encourages-Caution-in-Worship-Planning.html?soid=1122919835438&aid=x_o5X8_gXnY Here is a portion of their statement:
The consensus of Salem Presbytery's task force is that churches in our presbytery ought to continue to abide by guidelines offered by the governor, the North Carolina Department of Health and Human Services, and the Centers for Disease Control. According to those guidelines, gatherings of more than ten persons indoors are prohibited, and gatherings of more than twenty-five outdoors are prohibited. In addition those who are in at-risk categories because of their state of health or age continue to be encouraged to stay at home as much as possible except for absolutely necessary ventures outside to obtain food or health care or to take exercise. Many members of our congregations, including some who are most faithful in worship attendance, are in these at-risk categories. The decision for each congregation belongs to its leaders, but we encourage you to continue to refrain from in person worship until further notice.
Until we can meet safely in the sanctuary, we will continue to broadcast our services online. In addition, the session approved exploring the option of "drive –in church," which could provide a safe alternative gathering in our parking lot. We are assembling a task force to explore the logistics of this option. They will present their findings to session at the June stated meeting. Should the session approve this measure, we will communicate more about when and how it will be done at a later date.
Friends, I long for the day we can gather safely together, singing without worry and greeting one another without fear of unintentionally causing harm. We are called to be in community with one another, but for now we must use the technology we have at our disposal to foster our community together. Praise God that we have such things that allow for this! As we continue to work through this challenging time, please know that your elders are committed to making the wisest decisions they can to provide for our continued worship, care, fellowship, study, and mission together. I want to thank all of you for your continued support, encouragement, and commitment to be the church of Jesus Christ – the people; not the steeple!
In addition, this Sunday we will begin launching our YouTube worship service at 8:45am, for those who prefer the "earlier" worship time. It will remain available at 11:00am for those who choose to worship at that time as well. May God continue to make his presence known to you, give you his peace, and hide you under the shelter of his wings.
Grace and Peace,
Pastor Jeff