Response…
"Lean Into Love"
Many things changed this year as the result of Covid-19. Reflect not only on all that is changing, but on your enduring blessings and the call on your life by Jesus who gave his very life for you. During this or any stressful time we have a choice – We can retreat into fear or "Lean into Love."
FIRST PRESBYTERIAN CHURCH OF BOONE IS:
A FAMILY OF FAITH – that cares for one another, and through the Deacon's fund, we respond to needs within the congregation.
CALLED TO GROW IN THE LOVE OF CHRIST –
With courage and strength to face each and every challenge…
For Jesus said (Matthew 22:37-39) "Love the Lord your God with all your heart and with all your soul and with all your mind.' This is the first and greatest commandment. And the second is like it: 'Love your neighbor as yourself.'
TO SHARE THAT GOOD NEWS –
And our lives as well , not retreating into fear or wishing it away. We drive out fear by acting in love (1 John 4:18)
AND SERVE THE WORLD –
"Leaning into love" and learning what it really means to love our neighbors in this crisis will be crucial to our collective health and survival. Matthew 25:40 says "The King will reply 'Truly I tell you, whatever you did for one of the least of these brothers and sisters of mine, you did for me.'
NOW is the TIME – to serve our neighbors in a powerful and tangible way. The Disaster Relief Fund of First Pres Boone needs the support of the whole church. Contributions to this, big and small will go directly to serve the growing needs of our community.
The Mission Committee is responding as we partner with the following local organizations. Please click on the following links to learn more.
Rumple Memorial Church/Blowing Rock CARES
Please give as you feel called by sending a check to FPC designated for the Disaster Relief Fund.
Resources…

Click
HERE
for a list of Churches, Organizations, and Schools that are addressing the food needs of our community.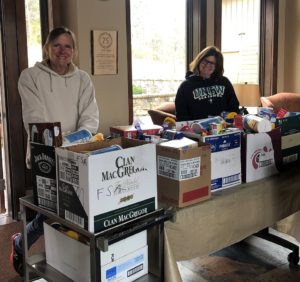 Community Care Clinic – Free clinic for low income and uninsured
Hospitality House – Hunger Relief & Housing WeCan – Western Crisis Assistance Network
Hunger and Health Coalition – Hunger Relief & Prescriptions
Blue Ridge Energy — Assistance Funding Info