HELP US FEED OUR NEIGHBORS AND THEIR CHILDREN THIS SUMMER!
More than 50% of the children at Bethel, Cove Creek, and Mabel Schools receive Free or Reduced lunch during the school year. In the summer the free and reduced lunches are not available…that's where the Food 4 Families mission project comes in and we would love for you to join us!
Here are some ways that YOU can help feed children in Western Watauga County this summer…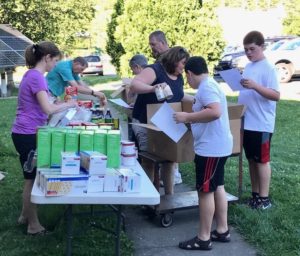 PACK Food boxes… June 24, July 8, July 22, August 5, 2019
LOAD the bus
DELIVER food to our partner churches… June 25, July 9, July 23, August 6
PRAY that God will lead each of us to do our part to help feed the children that need it the most this summer.
SERVE
on the F4F Planning Team
QUESTIONS??? contact Sue Newell at alltogether@bellsouth.net or a member of the F4F Team: Kathy Lehman, Margaret Gregor, Margaret and Russell Headrick, Anna Lehman, Dianne Huffman